What is Light gauge steel?:
Light-gauge steel sections are also known as cold formed steel sections. These sections are made from thin sheets of uniform thickness without the application of heat. The thickness of the sheet used is generally between 1 mm and 8 mm. These types of sections are extensively used in the building industry as purlins girts, light struts, roof sheeting, and floor decking and so on. These sections become economical for light loads and to form useful surfaces such as roof covering, wall panels. Nowadays, these are widely used, especially, in pre-engineered steel buildings.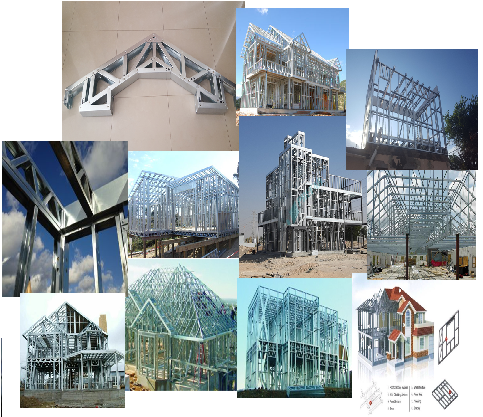 Advantages Of Light Gauge Steel
Some of the key advantages of Light Gauge steel construction are listed below:
1.Buildability:
The usage of light gauge steel structures lessens on field works, decreases material wastage and enhances the quality of the structure.
2.Speed:
LGS takes less construction time with comparison to bricks or concrete blocks construction. It overall saves up to 30% time for a project.
3.Strong but Lightweight:
LGS possess high strength to weight ratio than any other material used for constructing buildings. Due to this, a large amount of reinforcement is saved during foundation construction. Moreover, it can be easily handled and moved from one place to another.
4. Safety:
LGS possess huge safety for inhabitants. It is fire resistant and noncombustible. Cold-formed steel buildings perform better during natural disasters. Due to its light weight, buildings are designed for higher seismic and wind load.
5.Easy to Remodel:
Remodeling of light gauge steel component can be easily attained especially partition walls can be easily shuffled, detached or even changed.
6.Design Flexibility:
LGS offers flexibility in design as larger span lengths are available due to less weight of structure and space utilization is increased.
7.Consistent Material Costs:
Light gauge steel members are continuously available due to which price fluctuations are minimum. Moreover, LGS costs lesser as compare to other construction materials. Reduced construction duration, reduced labour costs, reduced scrap and reduced construction waste makes it efficient and cost effective.
Furthermore, it has higher resistance against sound, fire and water. Moreover, it doesn't have termite problem.
Where steel frame structures are used?
Light gauge steel construction is most often used in:
1. High rise buildings because of its strength, low weight, and speed of construction
2. Industrial buildings because of its ability to create large span spaces at low cost
3. Warehouse buildings for the same reason
4. Residential buildings in a technique called light gauge steel construction
5. Temporary Structures as these are quick to set up and remove
Weight of steel frame structures?
Consider a single storey building measuring 5 x 8m (16 x 26ft). Let us first construct this in concrete, with four columns at the corners, beams spanning between the columns, and a 150mm (6") thick concrete slab at the top. Such a structure would weigh about 800 kg/m2, or 32 Tons (32,000 kg) in total. If we build this of steel instead, with a sloping roof covered with corrugated metal sheeting with insulation, this would weigh only about 65 kg/m2. The steel framed building will weigh only 2.6 Tons (2,600 kg). So the concrete building is over 12 times heavier! This is for single storey structures - in multi-storey structures, the difference will be less, as the floors in multi-storey steel buildings are built of concrete slabs for economy - but the difference is still significant.

This low weight of steel frame buildings means that they have to be firmly bolted to the foundations to resist wind forces, else they could be blown away like deck umbrellas!
Time-lapse videos of some project that were done


Edited by muhammed78 - 16 Jul 2018 at 4:47pm